Accurate, Efficient and Secure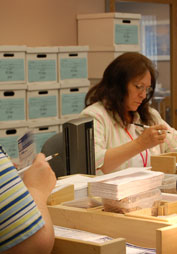 If you are looking for someone to help you deal with large mail projects that need to be accurately processed, look no further than IDSI.
We have the facilities and resources to process large batches of incoming mail accurately, efficiently, and securely. All you have to do is have the mail delivered to the P.O. box number we provide, and we'll pick it up, sort it, extract the data, and deliver the information to you in whatever format you require.
Steps
---
Pick up your mail from our dedicated P.O. box
Sort it
Scan envelopes and content as necessary
Extract data through data capture and/or manual entry
Process data
Deliver data to you in whatever format you require
Securely deposit any payments or donations
Arrange for mail to be securely shredded, if necessary
---
You will receive a custom list of records corresponding to each item received or scanned according to your specifications. We can also provide you with a link to the digital image of each item.
We have over 20 years of experience in mail processing and are equipped to handle huge jobs — and the bigger the job, the lower the unit cost. We can customize each job to fit your unique needs, so give us a call today!